Here is the Entrance art ideas.This project is about school entrance design ideas. These are the school gate decoration ideas. In this project we will see the lobby decorating ideas and how to decorate entrance gates.These are the ideas about gate art and design and how we can make a beautiful entrance.The welcome art and welcome decor ideas for school,welcome entrance ideas for home and welcome decoration ideas for any entrance.
This is the project representation of welcome art entrance art and kids room design ideas.There are several different projects in this posts.We will see complete project guide in the separate post.Here is the list of welcome and lobby art and design ideas.
---
Contents:
Natural Beauty Art Representation on Welcome Gates and Doors
Welcome art and Decor wall paint Art
School entrance animated wall Art
DIY Door Art and decor ideas with flowers
Wood working entrance door and lobby decor ideas
---
Natural Beauty Art Representation on Welcome Gates and Doors
---
This project is about turning old ordinary gates and doors into shiny amazing look. Turn your entrances into something that looks cool and inspire someone just at the entrance.This project has got so many appreciations from people.This is the entrance gates of a school where the representation of the natural sceneries has been painted in a way that it looks most    unique and amazing.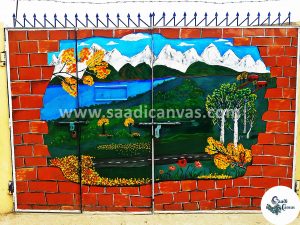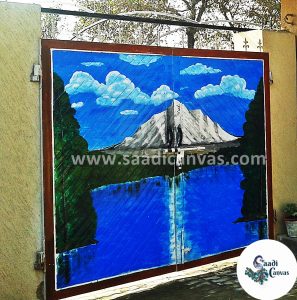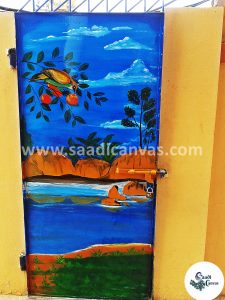 ---
Welcome Art and Decor wall paint Art
---
This one is the Entrance of a class room in the school.The room is decorated with welcome art and oil paint design.
The wall art is designed on the theme named "Garden of Manners" Where different learning quotation have been displayed on different locations.This looks kind of interesting when someone enters in the classroom.This is the attractive representation and welcome entrance ideas for a school.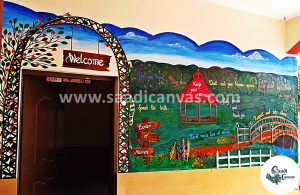 The thing to be notice here is the color combination.The door color and the similar art color. The very first step of the project was the designing of reverse U-shape on the door.After that the sky clouds and the rest of the wall painting have been done.
---
School Entrance animated wall Art
---
The kids classroom should be like the animated world.The kids classroom should be attractive and fun learning.Here the task was to design the doors and entrances according to the kids fun learning and fantasy.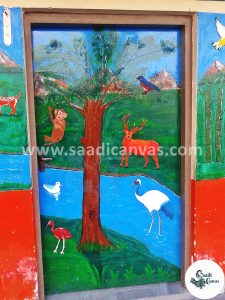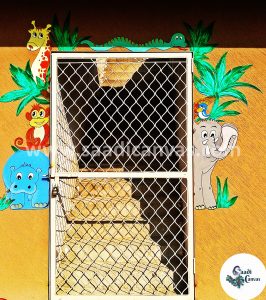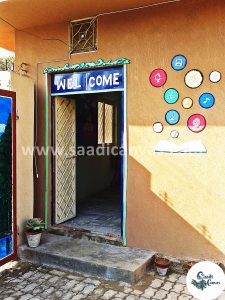 ---
DIY Door Art and decor ideas with flowers
---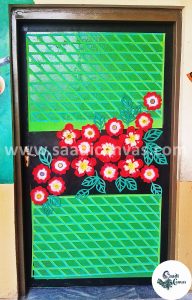 Decorating Room,Door or wall with flowers have always been a cool idea.The flowers making process involves many steps. The choice of making flowers with paper or simply oil paint on wall depends upon where we are going to place these flowers. Here we have decorated door with DIY flowers with green combination.
---
Wood working Entrance Door and Lobby decor ideas
---
There are so many option for decorating lobby,gallery or door entrance.Here we have decorated our door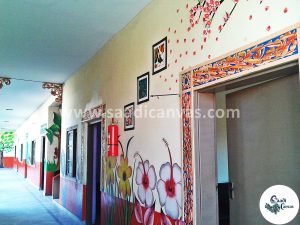 entrance and gallery corners with wood working.There are plenty of ideas for decorating with wood and it is not an easy task.There should be some good hands on Art and design working skills for this. And off course a great mind to present something in a way that it looks awesome.
---
I hope you liked the Entrance decor ideas.These are all DIY decor ideas.As this is just the project representation not the step by step guide.The step by step guide will be posted in a seperate article.You can Subscribe to our YouTube channel saadi canvas for video tutorials and amazing ideas.Feel free to ask anything here in the comments or ask through our contact form.You can order any of our project or your custom order either in the digital form or shipment for any project.Feel free to ask and place your order and visit our shop page and gallery for more ideas and guide.
Stay motivated and be on your side….
[yotuwp type="videos" id="ChMqks7QYKI" ]